University of Applied Sciences Bremerhaven
About the University
The University of Applied Sciences Bremerhaven was instituted in 1975. There are around 3,000 students from 66 nations, presently studying in the 24 technical, scientific, and economic bachelor's and master's degrees at the university. There are about 150 employees in teaching and administration who support the students.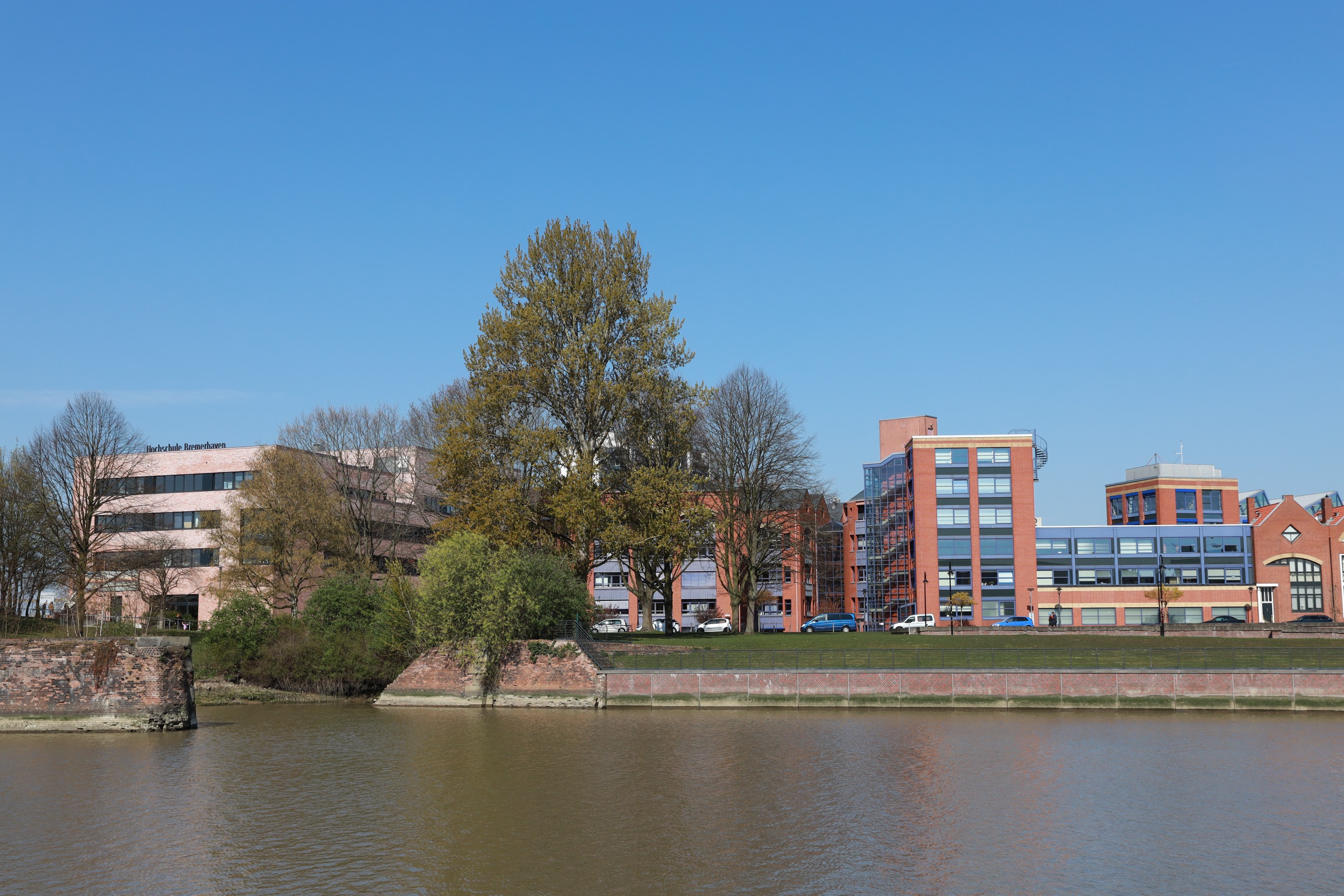 University Ranking
According to current statistics, the university is on the rank of 5,606 out of 14,160 in the World, 1494 of out 2,789 in Europe, 215 out of 370 in Germany, and 5 out of 6 in Bremen State.
Courses offered by the University of Applied Sciences Bremerhaven
Bachelor
Business Administration
Business Informatics
Cruise Tourism Management
Digital Media Production
Energy Management in Buildings
Food Technology / Food Economics
Industrial Plant Engineering
Master
Embedded Systems Design
Biotechnology
Digitalization, Innovation and Information Management
Integrated Safety and Security Management
Logistics Engineering and Management
Process Engineering and Energy Technology
Wind Energy Technology
Jobs and Internships
Students can opt for any job or internship if they want to earn with their studies. University provides career services for students which helps students and companies to contact each other. they can also work in the university as a HiWi. Other options are also available if students want to work outside the university so they can get a job simply at shops, stores, and call centers, which they can contact easily by online portals. Companies such as Randstad Germany, Property Management Schmidt GmbH, DHL Express, and various others are easily reachable online.
House and accommodation
On-campus accommodation is not provided by the university. Students can choose to live in the local student hostel or can arrange their private accommodations. Single accommodations and shared flats are easily available in the city with an average rent of approx 170-200 EUR/month. Nevertheless, it totally depends on the place and area students choose to live in.
Expenses for living in Bremerhaven are slightly low as compared to other cities in Germany. However, it merely relies upon the lifestyle of students. Around 550 EUR/ month should be enough to survive in Bremerhaven, including the cost of rent which is approx 170-200 EUR/month, and food and other utilities which are approximately around 325 EUR/month.
| Category | Expensive City [in Euro] | Average [in Euro] | Small town [in Euro] | Comments |
| --- | --- | --- | --- | --- |
| Rent | 500 | 375 | 200 | Depending on the location |
| Semester Fees | 350 | 200 | 110 | Per semester |
| Transportation | 0 | 0 | 0 | The cost of transportation is already included in the semester fees. |
| Public Insurance | 110 | 110 | 110 | Insurance does not depend on cities. |
| Private Insurance | 35 | 35 | 35 | you can choose either public or private insurance. |
| Radio Bill | 18.36 | 18.36 | 18.36 | Per month |
| Mobile | 20 | 15 | 8 | Mobile bill does not depend on cities. Usually it cost 8-20 euro per month |
| Groceries | 220 | 200 | 160 | Depending on your choice |
| Miscellaneous | 200 | 150 | 100 | Depending on your choice |
| Total [with Public Insurance] | 1,418 | 1,068.36 | 706.36 | Per month |
| Total [with Private Insurance] | 1,343 | 993.63 | 631.36 | Per month |
Places to visit near the University
Klimahaus Bremerhaven 8 ° East- It is a modernized meteorological center with interactive, kid-friendly weather & environmental shows.
German Maritime Museum- It is a museum established in Bremerhaven in 1971 to substitute the Museum of Marine Science in Berlin, which was demolished during World War II.
Bremerhaven Zoo- It is a zoo located near the river Weser and exhibits mostly species that live in the water or northern environments; exceptions are, for example, chimpanzees and White-headed marmosets.
Thieles Garten- It is a fairytale idyllic park with old trees, sculptures, exotic plants, a botanical tour, a picture gallery, and a cultural program.
Kunstmuseum Bremerhaven- It is an art museum founded in 1886.
This applied science university is continuously expanding its international partnerships with other institutions so that its students can get opportunities while they are studying in Germany.
Visit the following links for more information :